Aldridge is a private family owned and run security wholesaler and the largest in the UK & Ireland with over 70 years experience in the industry.
Aldridge Security's target audience is B2B trade customers within the locksmith industry. It's a pioneering B2B website with most of the functionality being unlocked when you log in to your trade account. Aldridge integrates with two systems. Their PIM (product information management system) Pimberley and an EDP integration for live stock and price lookup.
Aldridge security wanted a scalable platform for the future due to Magento 1 end of life. They chose Magento Enterprise B2B platform due to the number of B2B features available, which we were also able to heavily customise in terms of stock and price integration to help Aldridge to meet their goals. Their main goal focus was on scalability of the platform.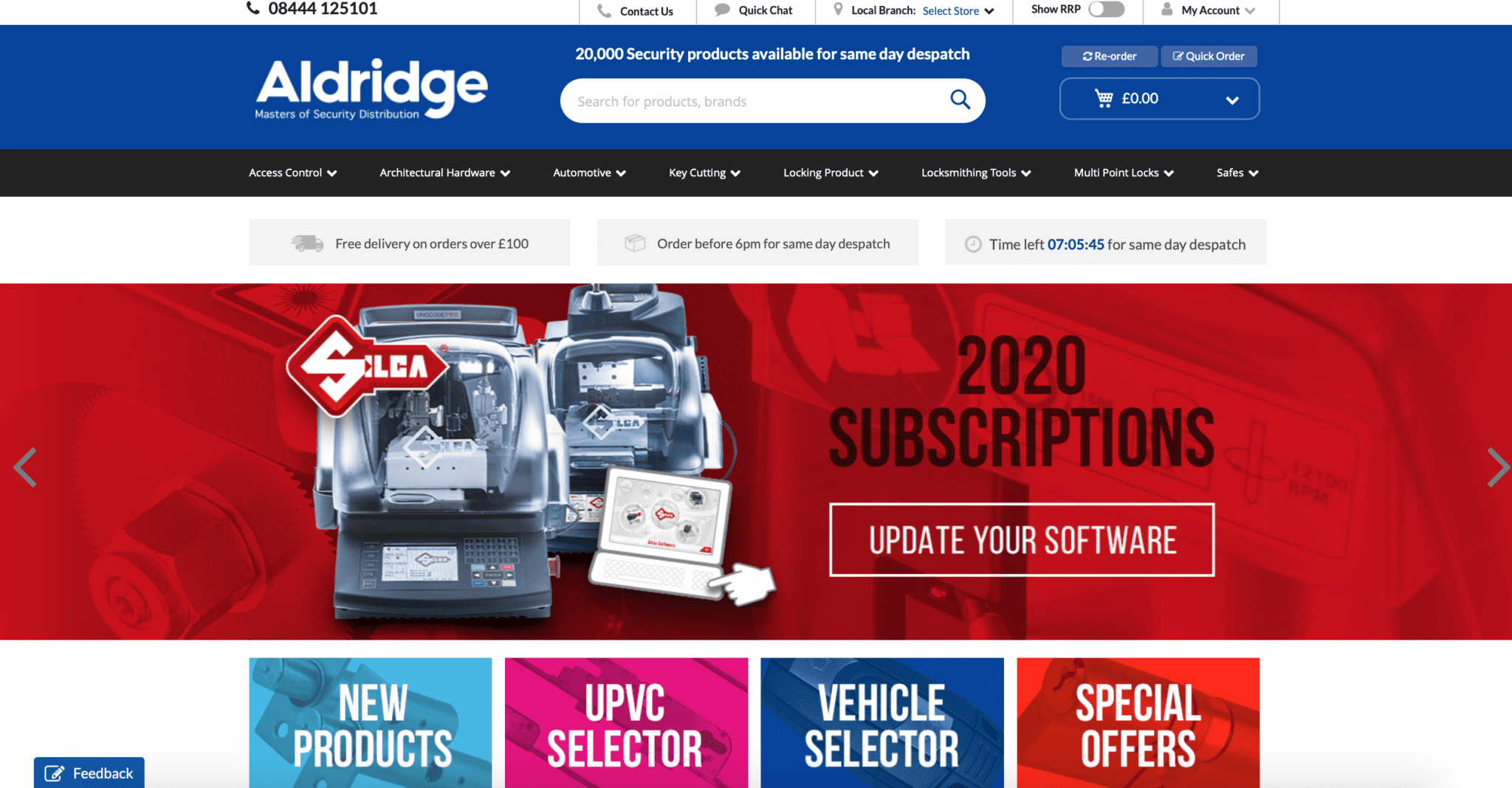 Technical Highlights
We've created a number of custom innovative features for Aldridge which were the first of their kind on any B2B website released on Magento B2B. This site was so pioneering we were working with Beta code that wasn't quite ready on Magento's side so the trade features were the first of their kind to be built. A large part of the innovation on the site was the 'Ship to Store' Functionality. Aldridge's previous website used standard click and collect. To improve the user experience and availability we introduced 'Ship to Store'. If the stock isn't available at the customers selected store, now we can take this one step further than click and collect. The system automatically checks if the stock is available in the main warehouse and if it is available, the customer will see availability, and in the background, Aldridge will be notified to ship this item to store ensuring the customer gets their item from their selected store on the next day. We used development and integration of an ERP system to allow Aldridge to receive notifications and manage shipping to stores. This new functionality has vastly improved availability and customer experience for Aldridge website users. We are also in the process of enhancing this with a store switcher on the product page to enable the user to see which branches do have stock available.
An important part of the project was to help Aldridge manage all of their product information. They wanted the ability to provide PDF downloads for the users with all the details of the product they are looking at. Rather than Aldridge having to sit and create each PDF for their thousands of products, we created a much more efficient and effective solution for them. We created an automatic pdf system which pulls in the attributes relating to the product on the fly, meaning the product name, images and all of the information about the product attributes, is dynamically pulled through for customer to immediately view. Without any need for intense creation and a lot of time from Aldridge to create these assets.
Another highly creative piece of functionality is their Vehicle System.' This is a vehicle selector which allows a user to enter details of their vehicle so they are presented with personalised keys and accessories relating to their vehicle. We also created a upvc selector which is a lock finder questionnaire to help users find the right lock to suit their needs. This functionality is solely focused on creating a better experience for the user and to make things easier for them to find the right product for them. Another integral part of the project was the payment customisation. Aldridge wanted users to be able to have only two options for payment, which are pay by card, or pay by account. We did a lot of customisation around this to ensure customers can only pick one of these options. There is also the ability for the different trade customers to all have individual prices shown to them.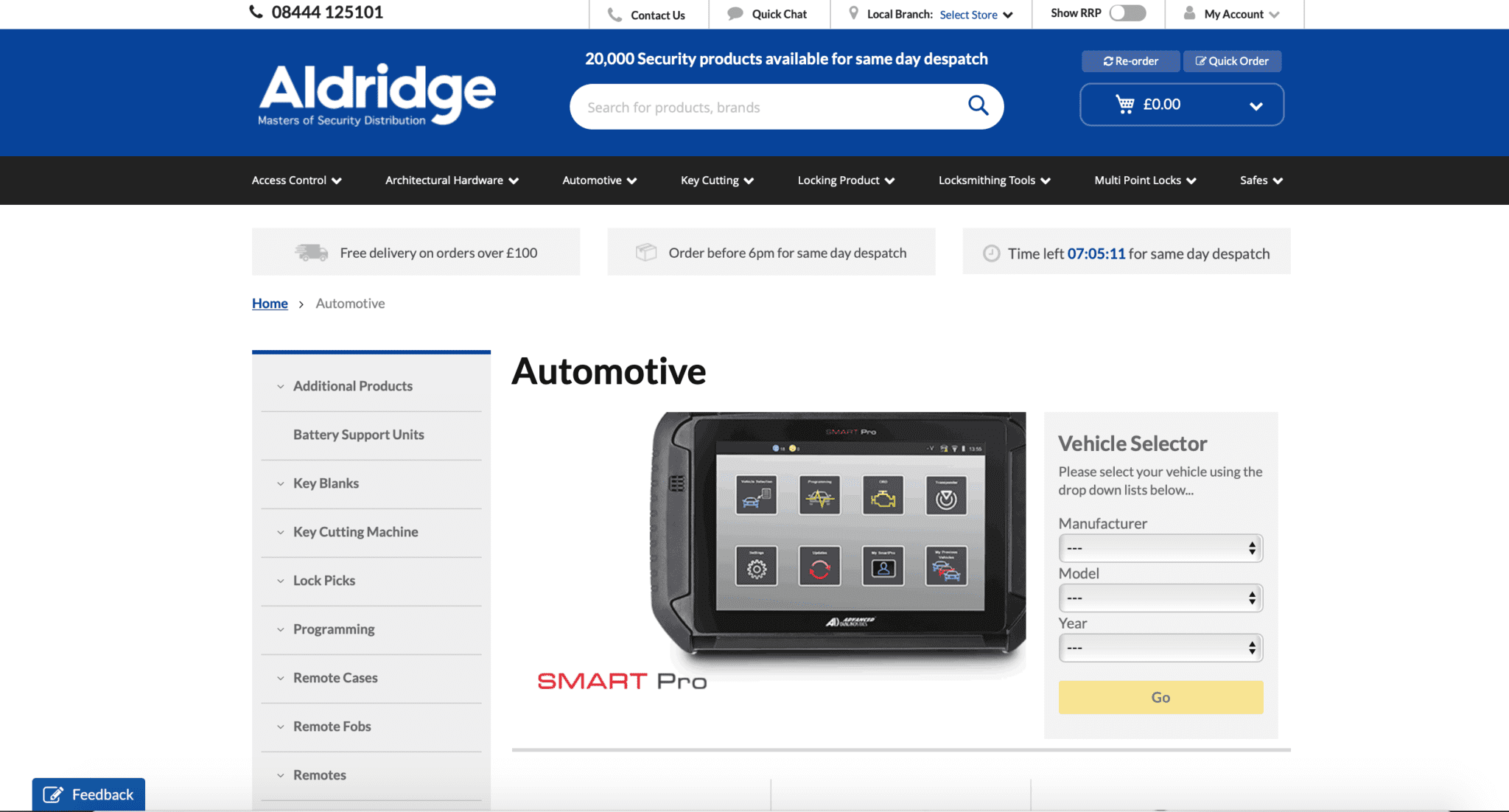 In terms of conversion, Aldridge's major goals were around scalability. As our agency ethos is built on eCommerce growth, part of our strategy is to ensure that the new website increases their revenue and provides a ROI. We're pleased to say that the new website has seen a revenue increase which Aldridge are thrilled about, and we have also seen a major increase in conversions and collected order due to the new ship to store functionality.
Results
YOY revenue increase since new website go live – 5.5% revenue increase. Went live in October 18. 

Conversion rate is 3 x higher this June compared to last.

59.64% increase in conversion rate after site implementation. 

5% increase in Average Order Value

44.99% increase in average pages per session showing increased engagement on the new site

56.52% decrease in bounce rate due to a more engaging design and ease of use

93% increase in session duration, meaning the site is much more engaging and so people stay a lot longer.
TESTIMONIAL – BRYN THOMAS – ECOMMERCE MANAGER
We spent a long time trying to find the right partner, not only are online sales a very important channel for us but we had to choose a partner who we could work closely with for many years.  After a lengthy selection process SmartE were the obvious choice, big enough to cope but small enough to care and focussed not only on making a site that looked great but would also easily connect users with product.
The creation of the site was a huge task however the whole SmartE team were a pleasure to deal with and even when inevitable issues arose they were dealt with proactively and fairly.  The end result is brilliant, our site is the industry leader and our customers (the true judges of our site) find it both fast and easy to use.
SmartE also have a wealth of experience with how to grow web sites and have been instrumental in our post launch enhancements; we are constantly working to improve the site and have a rolling development plan for the next 18 months, this is something we discuss and agree in our regular update meetings.
We definitely made the right decision when we chose SmartE, the staff are competent, friendly, accommodating and solution focussed and they continue to add value to our site.
For more information about our Magento builds or our strategic growth packages, please get in touch.