BEAUTIFUL, LONG LASTING PIECES WITH A SCANDINAVIAN AND HAMPTONS INFLUENCE AND A NEW WEBSITE TO MATCH.
The lovely Suzy at Layered Lounge approached us after hearing our owners (The Hammersley Brothers) podcasts focused on eCommerce growth and we were delighted to start a working relationship. One of our core focuses at Smartebusiness is helping eCommerce businesses to grow their business and their revenue through our unique KPI methodology. One of our services is our coaching & mentoring program, that's very much focused on us being a businesses eCommerce mentor. We walk them through the stages of eCommerce growth, identify the pain points and bottlenecks to growth, and the future opportunities. We help to create a solid eCommerce strategy along with continued coaching to improve their KPI's, and ultimately their revenue.
It's been an exciting time with Layered Lounge as one of the big opportunities we found was the design of their current website. The website design was already quite beautiful but missing a number of things from The Hammersley Brother's eCommerce Blueprint that we would class as eCommerce best practice, such as delivery and in stock messaging, promoting free returns, and other important messages.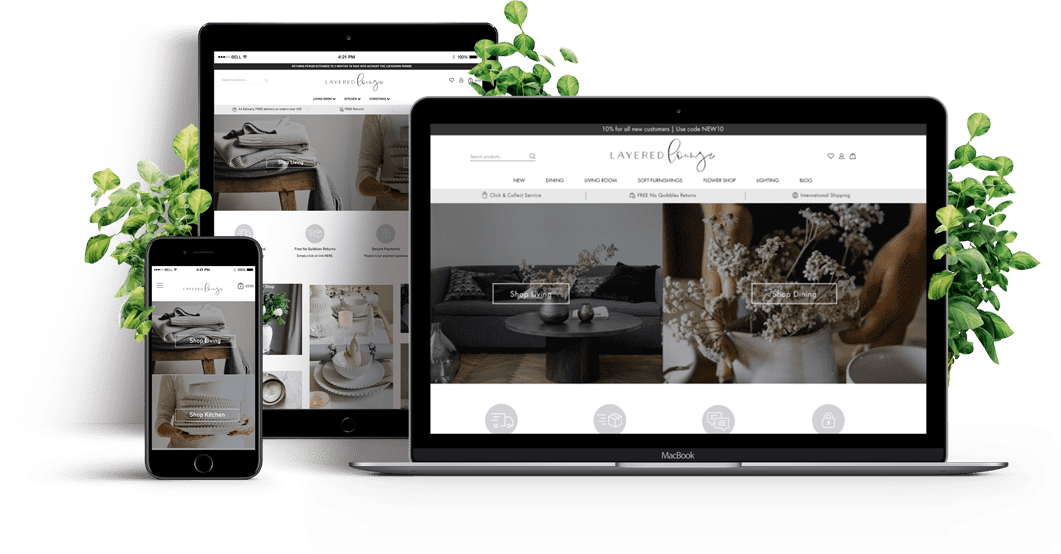 Design Workshop
We completed a design workshop with Layered Lounge and uncovered some things that we wanted to change. As part of this redesign process, they also decided to move from their current platform Shopify, to the Smartebusiness platform Smartgento which is our optimised version of Magento 2. We've taken all of the rules of eCommerce and applied them to our platform, making it quick and easy to set up, and easy to use out of the box. However, for Layered Lounge we worked on a beautiful new custom design and simplifying their user journey. You'll notice on their homepage they make it really easy to find the category you are looking for with their shop living and shop kitchen options.
Homepage 
We added clear icons for shipping information and returns to reduce any friction and to focus on improving conversion by displaying clear messaging.

Product page
Not forgetting those all important breadcrumbs, so the user can very easily identify where they are in their journey and how to get back to the category they are looking at. We do this to reduce bounce rate and make the customer online journey clear and easy.

The Website Build
Using Smartgento, our optimised version of Magento 2, we created a beautiful but functional website following eCommerce best practice. 
Based on the latest vanilla copy of Magento 2, Smartgento has been designed and built with complete focus on the core ecommerce growth KPIs (all in our book!) as well as some fantastic revenue boosting features). This means you can leave us to it and you focus on the product & customers, and stop wasting time trying to get your platform changed! 
Smartgento main features
Designed according to your buyer type (Problem Solving, Rational Purchase vs Emotional Lifestyle) 
Smartgento allows you to be selling within 30-90 days (depending on any customisations.) Our vanilla out of the box version takes 30 days to set up, has a pain free on boarding process, and is supported and hosted for a monthly fee.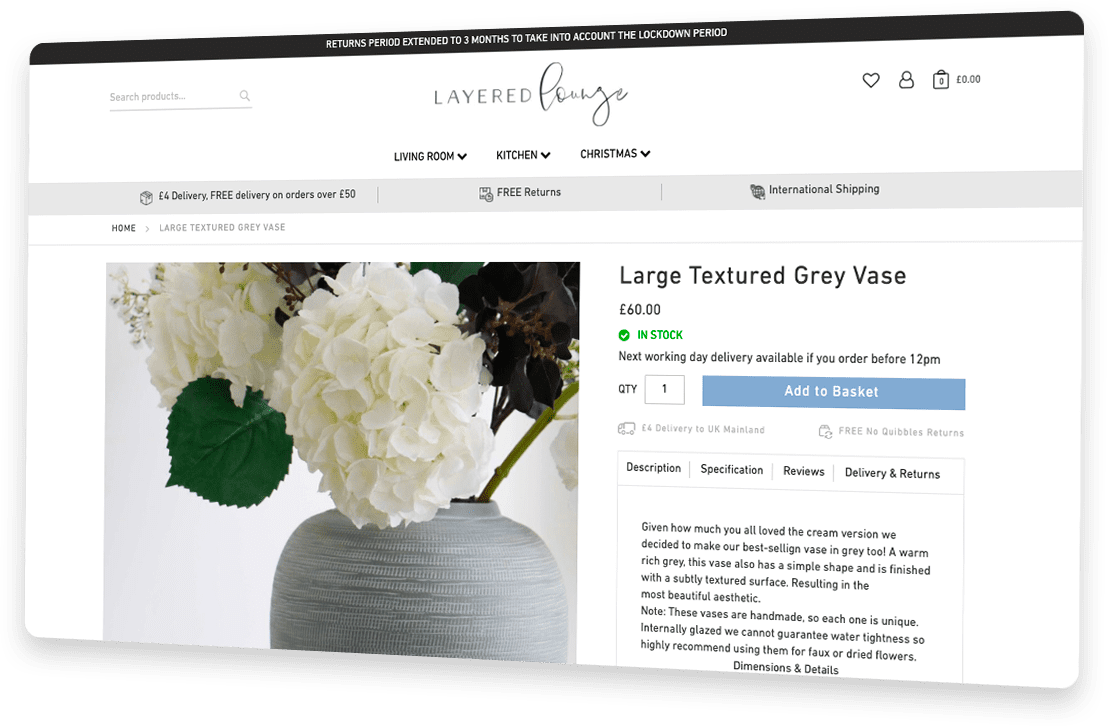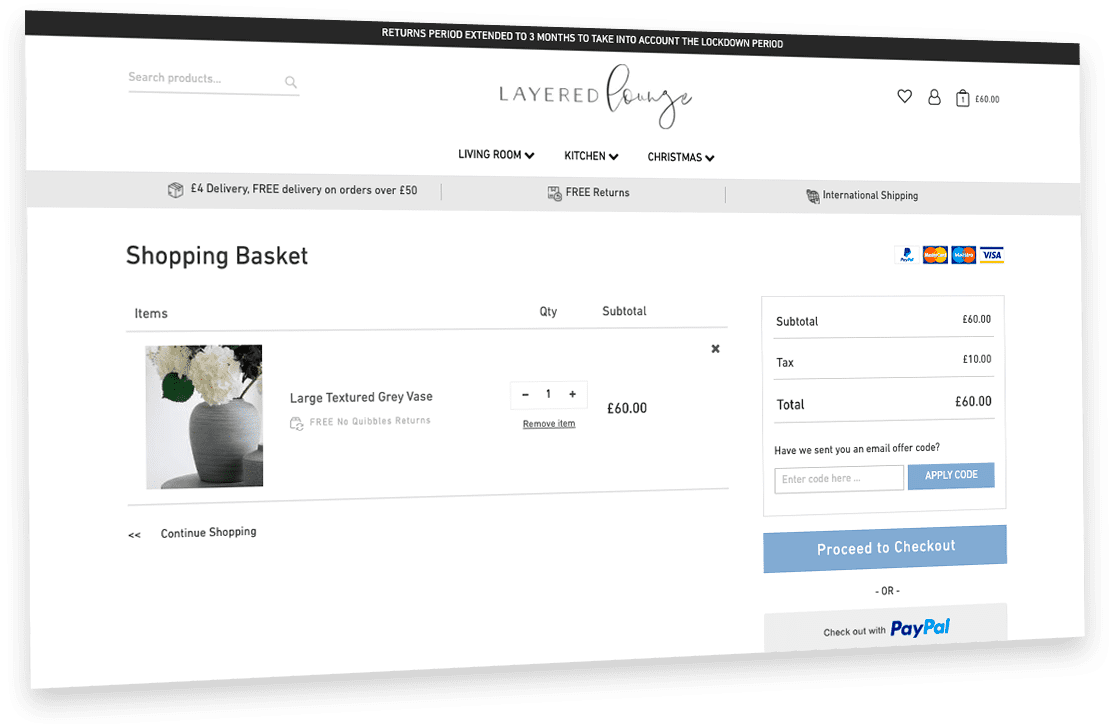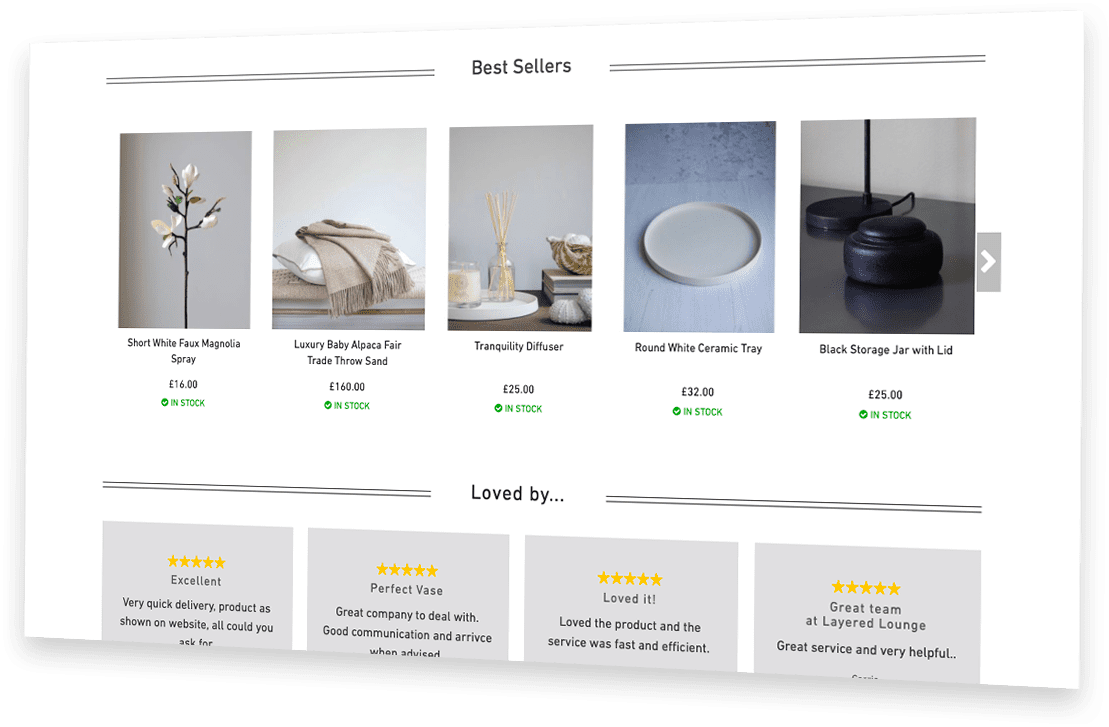 Product Page
✓ The Product Page will be structured around reducing bounce rate and maximising the Add to Basket Rate.
✓ The offer architecture will be provided through our unique and purely in house system 'ScentTrail' system (specific offer banners based on specific roles, email data capture in banner and/or pop up, behavioural based email follow-up stepped sequences)
✓ Advanced promotions engine (allowing much more sophisticated promotions)
Basket Page
✓ The Basket Page will be built to bring scarcity and urgency and be based around the core principles of Basket to Checkout
✓ The Average Order Value will be increased using our AOV boosting systems, such as the Sweetie page system (Between basket and checkout with specific offer is only available during purchase)
Home Page
✓ The home page will follow our essential checklist
✓ Advanced layered navigation (allowing multiple filters at once, ability to choose colours are on the category page with this changing the images if simple product exists with that colour and image)
Results
Went from £10,000 a month to £40,000 a month within 3 months on our coaching and mentoring program.
Looking to achieve their 1million revenue target in their second year rather than their fourth year.
Comparing the last 30 days on the new site, to the 30 days just before the new site went live, we've seen;
50,18% conversion rate increase
94.56% revenue increase
20% increase in pages per session
13% increase in session duration
4.83% increase in average order value
18.19% increase in SEO traffic
107% increase in SEO revenue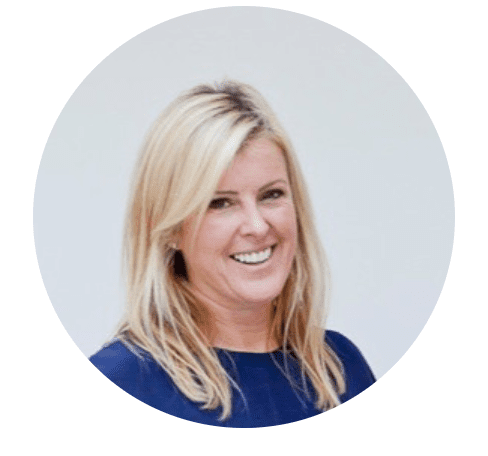 Here's a video from the lovely Suzy, where she talks about where her business was when she met us, and why she decided to work with us.
We thoroughly enjoy our working relationship with Layered Lounge and watching them grow. That's what we do! We don't approach our projects as a website build, we approach it as a business growth project. Through monitoring key eCommerce KPI's and optimising them, we work on a 3 year growth plan designed to take our clients to the next level. If you would like to speak to one of our team, you can contact us or call 0161 236 2503 and go through to enquiries.